GRAHAM MUSHNIK


On The Phone with
LP - April 2013 -

catalp012

After the release of his 1st effort
"A Distant Wildlife", Graham Mushnik's back with a long-awaited full-length LP. Loaded with more funky grooves and to-the-point themes,
Graham's new cosmic conversations deliver a constellation of fresh original tunes.

The organ is often protagonist in Mushnik's music, and the predominant cinematic atmosphere guides the listener through an eclectic array of rhythms and harmonies. Although Mancini, Cinecitta and Bollywood aren't far off, hip-hop and funk breaks, Afro-beat or even North-Brazilian tones find their place in this epic, yet light-hearted LP.

"On the Phone with Graham Mushnik" is a modern tribute to both past and future, a spicy mixture of loops, fiery keyboards, samples and exotic sounds - enough to fill your dancefloor and soul with interplanetary vibrations!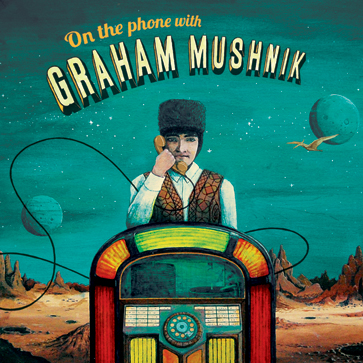 A
1. Woodworm Twist
2. Storms & Spells
3. Intermission: Her husband
4. Landline Blues

5. Highway To Cape Coast
6. Valse au Santour


B

7. Drunken Spy
( feat. Roma Khleb)

8. Festa De Sao Junao
9. Intermission: Rock, Rock
10. Mambo no 7000

11.Gegene's Apocalypse



Bonus Tracks


12. Eastbound Whistle
13. Cavalcascade