MALPHINO


El LAva De Gabacho
EP - April 2013 -

cataep013

Initiated by DJ & visual artist Yu Sato (Lex Records), the devilish Malphino have been spreading their raw, earthy blend of Cumbia, Forró, Samba and cinematic Exotica throughout London since 2010.

This is their first "studio" effort - recorded live at Catapulte's basement on a 2-track tape machine - featuring 3 original instrumentals
and 3 beautifully sung vocal tracks
(including Jose Barros's classic "Navidad Negra").

While Alex Barrow's accordion and Graham Mushnik's organ deliver their merciless riffs, the rhythm section - percussion, acoustic guitar and a mad tuba - keeps the groove going. Rather than opting for the trendy psychedelic sounds of echoey guitars and synths, Malphino went for a more primitive approach with clear influences from early jazz, 50's mambo and film soundtracks (live, they often cover Nino Rota and Piero Piccioni). A catchy, soulful and butt-shaking 10" vinyl that will keep your hips busy "hasta Lunes"!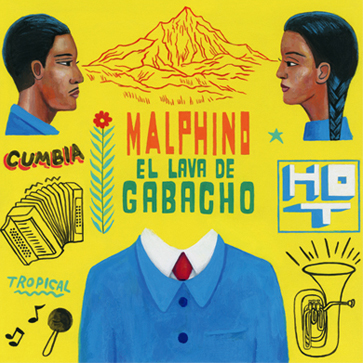 A
1. Cumbia Policia
2. Navidad Negra
3. Mi Malphino

B

4. El Lava De Gabacho

5. Danza Negra
6. Fabiola Amapola