ANGELO SPENCER & LES HAUTS SOMMETS


Love in the morning
[LP - May 2015 - catalp019

]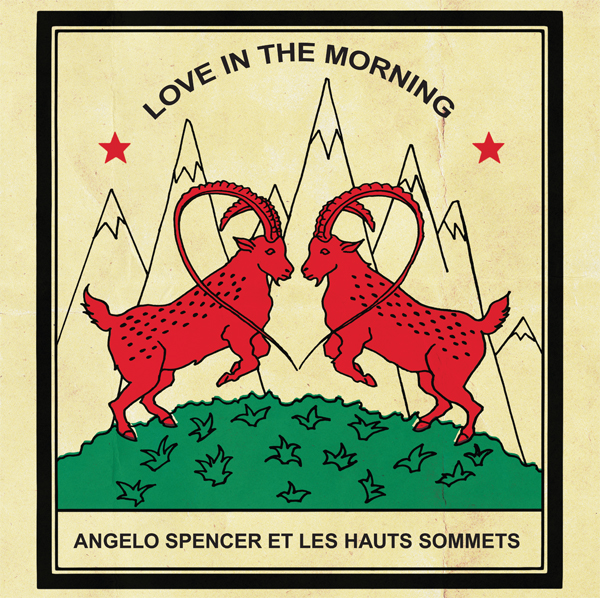 A1.Solid Homelife
A2.Immune system crashing down
A3. Love in the morning
B1. Love in the Morning
B2. Melatonin & Weed
B3. Tanger, Tanger
Angelo Spencer's third album is his most danceable work so far! Written and recorded in Chambery, France, in the heart of the Alps (where he grew up) over the course of a week in February 2014. With the help of old friends and amazing musicians Luc Detraz (Imperial Tiger Orchestra) and Karol Skonitcki (Super Fedor),

Love In The Morning

is a short, precise, and undeniably groovy love affair! With repurposed autotune and raw, uncompressed sound recorded by Djan (the man behind the Larsen Records sound), the album is minimal yet so full. These guys don't joke around.
This shit was made for dancing!
The Congolese Soukous style of the title track "Love In the Morning" and "Solid Home Life" will explode your heart with pure happiness. The cover of OKVancouverOK's "Nature" is a wild ride showing you that there is hope and yes! we can destroy capitalism! Feeling hungry? "Tanger, Tanger" will feed you the most beautiful meal you've ever had. Feeling tired? Relax as special guest Gilles Poizat (Mazalda) plays trumpet on "Melatonin and Weed", the fresh new waltz of 2015. Basically, we've got you covered.
This is the new sound! Get ready!

Angelo Spencer has played hundreds of shows all over the world from Morocco to New Zealand. He is still a regular collaborator in Arrington De Dionyso's famous trance punk outfit, Malaikat Dan Singa. He has also collaborated with Daniel Higgs (for a soon-to-be- released recording), Karl Blau (who produced two of Angelo's albums), Ruby Fray, Ohioan and more.
Angelo has opened for Faust, Kimya Dawson, Group Doueh and Earth, on their U.S tour.
Calvin Johnson (Beat Happening, Halo Benders, Dub Narcotic Sound Sytem, Selector Dub Narcotic, The Hive Dwellers) recorded one of his singles.

Angelo is a fierce guitar player and an Echoplex master; he is pretty much the only live Echoplex player in the world and is currently writing a whole series of pieces for Echoplex to be performed live!