PISSINBOY

- Emily


Digital - March 2012 -

catadg011

'Emily' is London-based trio Pissinboy first full-lenght LP:
11 original numbers written by Italian artist Andrea Pirovano.
A colourful rock album in which you will recognize the band's love for 60's pop, British punk,
psychadelia, surf... All the songs are beautifully composed and interpreted with style and energy.


Emily was released on vinyl by French label Larsen Recordz.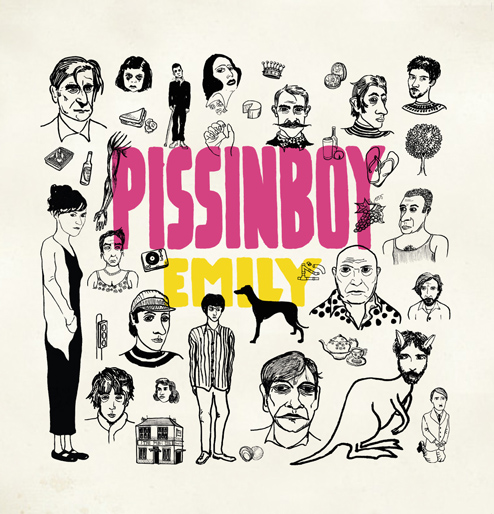 A




1. Six for a fiver




2. She likes pubs




3. Pick me up




4. Car accident


5. Fool of me

B


6. She's the one




7. Life Style




8. Love of mine




9. Left temple


10. A Padoue
11. The girl I like

Six for a fiver - 2011
Left temple - 2011
''Artists-cum-musicians can be a pretty hit or miss thing. For every Throbbing Gristle there are a hell of a lot of Yoko Onos. Thankfully Pissinboy, the musical arm of Italian artist Andrea Pirovano's creative endeavours, is actually pretty damn good. ''

''The group, which began back in 2007 as the solo project of singer/guitarist Pirovano (or Piro for short), now features Graham Mushnik on drums and Juste Akiss on second guitar.

Based in Stoke Newington, the three-piece make lo-fi fuzz-pop, and kind of sound like a mariachi band who have discovered the joys of garage rock. Piro's songs are endearingly simple, as are his lyrics, which concern everyday things like the colour of his tracksuit as he runs through Hackney Marshes. There is something really charming about Pissinboy's music, which owes as much to the lo-fi naivety of Daniel Johnston as it does to '60s garage bands.
The group form part of indie label Catapulte Records, a collective of artists and musicians who are DIY through and through. Piro himself regularly puts on gigs around London, illustrating the promotional poster and flyers, as well as the Pissinboy artwork. Check out the group's brilliant, bittersweet single 'I Will Always Find You', which was released last year as an EP on Catapulte''

Sophie Jacobs, Spoonfed
''Pissinboy is a guitar trio, an incredible song-machine.
Pissinboy's new album, Emily, documents a life in exile in London, with songs that act as anthropological studies of the minute banalities that make up life on the outskirts of the city.
it is a body of work that contains the words ''stir fries'', ''flip flops'' and ''pubs'' , and thus pretty much nails it. Pissinboy contains elements of the following: Velvet Undergroun, Syd Barrett, Jeffrey Lewis, Glenn Branca, Beach boys, Television Personalities. But not necessarily in that order, restricted to just these names, or even really much like any of these at all really.
Pissinboy is not a cynical operation, it performs songs with lyrics that describe what it has seen, and sounds that thrill, surprise and make you dance !''

Tim Burrows
''Weird, fuzzy 60s inspired pop sounds like it is destined to be on the soundtrack of a Wes Anderson film.''

N16 Magazine
Blow Up magazine- Italia / 2012 (interview)
Read interview
HERE
Blow Up magazine- Italia / 2012 (Emily Album review)


BUY
VINYL
or
MP3