The Slow Slushy Boys


Chingford Train
10" - June 2014 -

cataep016

Since they first formed in 1989, the French "Slow Slushy Boys" have released not less than 8 albums and a big bunch of singles, and have always kept the same sacred goal: delivering the grooviest hip-shaking R'N'B, Soul and Funk, while performing mostly original material and staying way out of the gimmicks and clichés.

With the benefits of the band's fabulous new horn section, this EP features a heavy Funk instrumental lead by organ and brass, "Chingford Train", in the vein of Texas or New Orleans 70's Funk with a slight touch of blaxploitation filmscore.
The second track is a sensual Soul-Jazz ode to dance and love, "Groove On Up", with beautiful whispered backing vocals and a powerful brass riff – perhaps the most exotic/erotic track on the record.
On the B side, the Slushy boys are treating us with a version of Lonnie Smith's "Move Your Hand", one of Blue Note's most soulful gems; rendered here in a wild, almost Afrobeat-ized style.

A glorious 10" which celebrates the joint efforts of Catapulte Records (Graham Mushnik on organ, Juste Voyant on the mixing desk) and the French Alpine "B-Soul" connection (singer Benny Gordini, drummer Luc 'Bongo' Det from Imperial Tiger Orchestra…) Get a groove on!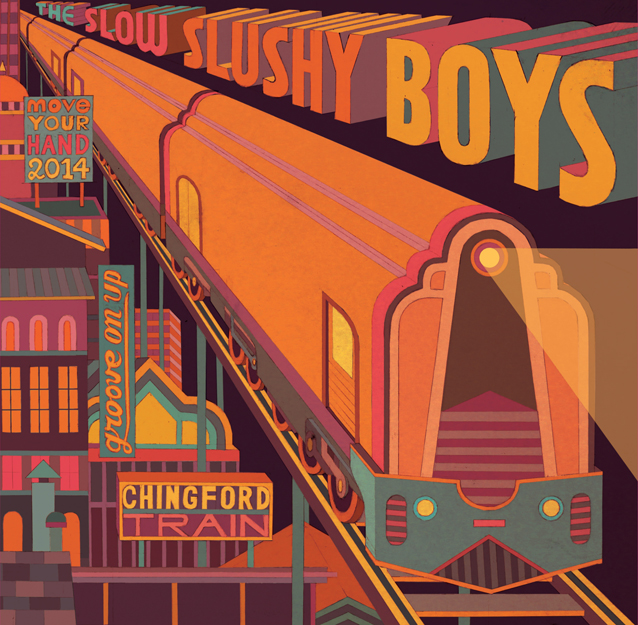 A
1. Chingford Train
2. Groove On Up

B

3. Move your Hand (2014)
'Groove on Up'
Du côté du EP, en format 25 cm, le groupe affiche clairement son affiliation au groove funky de quelques grandes villes américaines. "Chingford train" repose sur les nappes d'orgue de Graham Mushnik, ce qui est normal puisqu'il est l'auteur du morceau. Un "Chingford train" qui doit beaucoup à l'influence d'un Isaac Hayes, au rhythm'n'blues de Memphis et au son Stax. "Groove on up" possède des relents plus urbains, new-yorkais, entre acid-jazz et rhythm'n'blues dilettante. Tout comme "Move your hand 2014", une reprise de l'organiste new-yorkais Lonnie Smith, spécialiste d'une soul jazzy que les Slow Slushy Boys rendent ici à la perfection. Un disque traversé par une musique d'un autre âge, nettement millésimée 60's/70's, mais que les Slow Slushy Boys, du fin fond de leur Savoie natale, s'approprient avec le savoir-faire de leurs nombreuses années d'expérience.
Fanzine 442e Rue N° 107